Editorial
It's not easy to describe the collection of the Galleria d'Arte Moderna in Rome, it's more like a journey through shapes and colours and into the artistic and cultural history of our city from the end of the nineteenth century, when Rome became the capital of the young Italian state, to the crucial historical events of the new century and the disasters of world War II.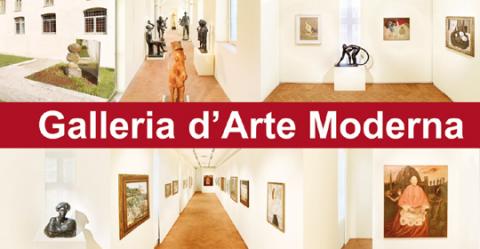 The Gallery of Modern Art in Rome was conceived as a "civic collection", a "citizens' collection" intended for all citizens of Rome. Since 1925, the goal of the gallery was to document Rome's artistic environment in all its aspects. As a matter of fact, alongside the works by renowned artists, there are works by secondary figures, equally significant for the history of culture in Rome, and works by famous authors, who found themselves occasionally attracted by the international character of the city in modern times.
The Gallery of Modern Art in Rome offers the public its rich artistic heritage in the historic location of Via Francesco Crispi, an ancient monastery of cloistered Carmelite nuns. Following a recent renovation, the museum reopens in 2011 offering the chance to visit a valuable collection of works that witnesses the developments and trends in Italian post-Risorgimento and twentieth century art. Due to architectural characteristics and because of the limited space available, only a selection of one hundred and fifty works - including paintings, sculptures, and drawings – will be on display.
From the romantic naturalism of Vincenzo Gemito's clay sculptures to the fine works of Aristide Sartorio and Nino Costa, from Onorato Carlandi's landscape paintings to the works of Adolfo De Carolis, Duilio Cambellotti, Felice Carena, Mario Sironi, Antonio Donghi and the Roman School artworks for which the collection is celebrated.