History of the museum
The story of the Municipal Gallery of Modern and Contemporary Art starts in 1883 when the Municipality purchased 40 watercolors by Ettore Roesler Franz and a few historical and generic works at the Universal Exhibition. In the following decades, since the city had purchased for various purposes otherworks, the idea of building a Municipal Gallery of Modern and Contemporary Art started to shape up.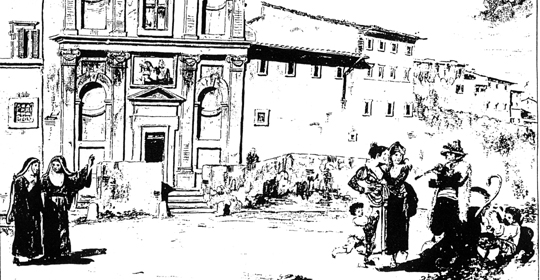 In 1925 when the collection counted about 200 works consisting of paintings, sculptures, and graphics, it was exhibited to the public in Palazzo Caffarelli on the Capitol Hill and took the name of Galleriad'Arte Moderna (Gallery of Modern Art). The collection kept on increasing and in 1931 a new arrangement was set up, including several donations and especially the 70 works purchased by the Municipality at the First Roman Quadriennial. In 1938 the Gallery was temporarily closed although the Municipality continued its acquisitions. In 1963 it was reopened in the Palace of Exhibitions remaining open to the public until 1972, when it was closed once again, due to the need to restore the Palace, and the works were placed in the depots of Palazzo Braschi and in some rooms belonging to the Municipality. About one third of the works were used to decorate offices. Waiting for a final accomodation, part of the collections was transferred to the ancient convent of the Barefooted Carmelites of St. Joseph at Capo le Case, where they are once again open to the public since 1995. The collection includes works that represent the most significant moments of the Italian art from the late nineteenth century to the Second World War. The works are by V. Gemito, G.A. Sartorio, the XXV della Campagna Romana, G. Balla, Tato, F. Depero, N. Costa, G. Morandi, G. De Pisis, F. Trombadori, Scipione, F.Casorati, G. Capogrossi, G. De Chirico, C. Carrà, G. Severini, M. Mafai, R.Guttuso, Afro, and A. Savinio. The revision of the inventory of the entire collection performed between 1991 and 1994 has estimated more than 4,000 pieces, between the works exhibited and the ones in store. Meanwhile in 1999 the second new site of the Gallery was inaugurated in the former Peroni building. A selection of masterpieces from the collection in 1995 was hosted in the seat of Via Crispi, in the former convent of the Discalced Carmelites in S.Giuseppe Capo le Case, which still houses the Museum. After a period of closure due to renovation works, the museum reopened on November 2011.