The Artwork of the Month - September 2022
Antonio Barrera
(Roma, 1889 - Forlì,1970)
Il porto, circa 1918
oil on canvas, 104.5x89 cm
inv. AM 28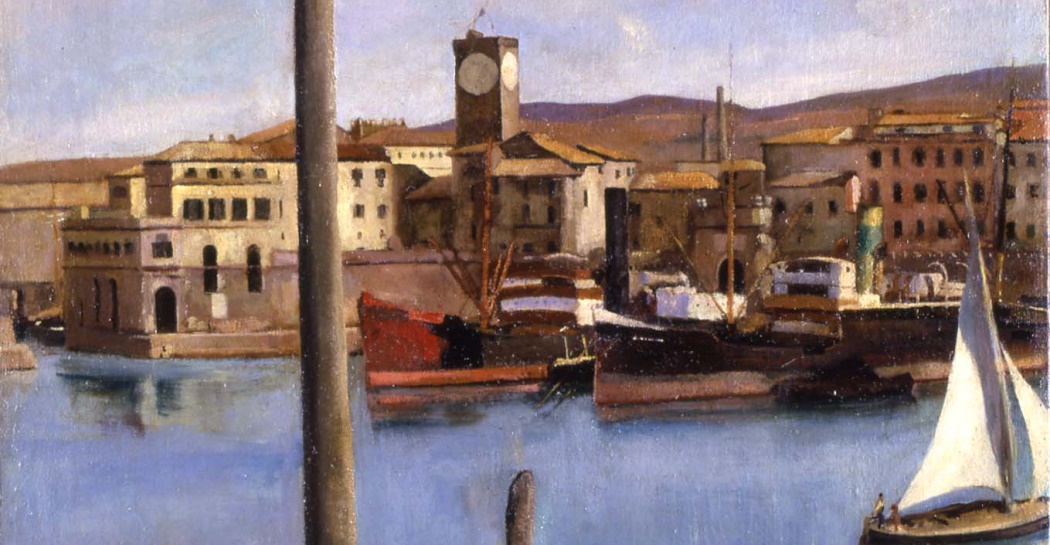 The painting, which can be traced back to the second decade of the 20th century (the date affixed to the bottom right, however, does not allow the last figure to be deciphered with precision), shows a view of a port from above: a terrace houses a domed building and a high ground with poles; on the right an elderly man, identifiable by his wavy hair and beret, is walking with a calm and serene air. Beyond the terrace one can see a sailboat with two figures at the stern and, further back, two moored ships and the quay. The outline of the hills under the sky traces the horizon behind a very compact and dense residential curtain, consisting of several buildings and a tower or perhaps the bell tower of a church. It could be the port of Civitavecchia: in fact, in 1920, on the occasion of the LXXXIX Mostra dell'Associazione Amatori e Cultori di Belle Arti in Rome, Antonio Barrera exhibited a work entitled Porto di Civitavecchia, which could be identified with this same painting, later purchased in 1926 by the Governatorato di Roma on the occasion of the Mostra Nazionale del Paesaggio.
A warm, diffused light throughout the composition gives it an unreal tone and a suspended atmosphere, emphasised by the motionless sheet of water. The painting, selected for the Prima Mostra del Novecento italiano (Milano 1926), is a fine interpretation of the cultural orientation of the movement promoted by Margherita Sarfatti, especially for its reworking of the Italian painting tradition and its predilection for concrete and simple forms.
Marine subjects are very present in the early production of Antonio Barrera, a Roman artist who pursued his artistic vocation relatively late due to family difficulties. After frequenting Pietro Gaudenzi's studio and spurred on by the encouragement of the famous painter Enrique Serra, a family friend, Barrera devoted himself completely to his artistic activity, opening a studio in Via Margutta and participating, from the 1920s, in the major exhibitions of the time, including the national exhibitions of Marine Art in 1926 and 1927.
Return to the section > The Galleria d'Arte Moderna artwork of the month