Pasolini pittore
Immagine:
27/10/2022 - 16/04/2023
Galleria d'Arte Moderna
On the 100th anniversery of the birth of Pier Paolo Pasolini (1922-2022), a great exhibition focuses on Pasolini's painting skills, bringing them into the context of 20th century art history.
Pasolini Pittore is an exclusive exhibition project, the first one of its kind, designed to celebrate the 100th anniversary of Pier Paolo Pasolini's birth (1922-2022). The exhibition aims to draw attention to an important creative element, often forgotten by the critics, in the total creative context of the writer and director, more than forty years after the last complete book about Pasolini Pittore, published in 1978.
About two hundred works, most of them coming from the Gabinetto Scientifico Letterario G.P. Vieusseux in Florence, holder of the most important collection of works about the writer and director, starting from Pasolini's pictorial beginnings that goes together with his first poetic tests in Friulano style. Paintings and drawings that reconstruct his artistic career, also thanks to the presence of an important group of works from the early 1940s, made in Casarsa della Delizia (PN), where they are displayed thanks to the cooperation with the local Pier Paolo Pasolini Study Centre. Portraits, still lifes and landscapes with a strongly intimist and familiar flavour through to the series of young boys portrayed sitting, lying down or with flowers which, from another point of view, document the exceptional artistic experimentation of the young Pasolini.
A special focus is devoted to the Bolognese creative environment for Il Setaccio, the monthly magazine of the GIL, Gioventù Italiana del Littorio, in Bologna (November 1942 and May 1943), in particular on the drawings by Pasolini and Fabio Mauri, produced for this magazine. This proves the determination of a friendship, which is also a continuous
exchange of ideas, and Pasolini's growing passion for art history. A strong interest, also born in Bologna around the pivotal figure of Roberto Longhi, to whom the writer asked for his graduation thesis focused on Italian painting in the twentieth century, from Carlo Carrà to Giorgio Morandi and Filippo de Pisis, artists he himself loved very much.
From the 1950s the arrival in Rome, the writing and the cinema became for Pasolini the time of an ever more fervent melting pot of artistic and creative experiences that in part, but only in part, would distance him from painting as a practice but not as a conceptual progress and technical interest. This is reflected in many of his little-known writings dedicated to painting itself.
In these years, Pasolini's interest in the subject matter, his dialogue with the contemporary world and the specifics of the portrait became the identification traits of his pictorial reality in continuous progress and very often dedicated to his "best friends". From the portraits of Ninetto Davoli, Maria Callas, Laura Betti, Andrea Zanzotto, to the series of drawings dedicated to Longhi. These are all works from the 1950s-1970s that clearly underline the semantic value of Pasolini's reproduction of the human body, always carried out with great stylistic coherence and still of Longhi extraction.
These works also reveal the continuity of Pasolini's pictorial practice and the technical obstinacy with which he confronts this production as a protagonist. Moreover, the artist is always more interested in "composition" - with its contours - than in the material", in line with that pictorial phase of Italian art which, precisely between the 1960s and 1970s, was increasingly defined by the civil commitment with which it was saturated.
Scientific Committee: Silvana Cirillo (Lecturer in Contemporary Italian Literature, Faculty of Literature and Philosophy, Sapienza University of Rome); Claudio Crescentini (Art Historian, Capitoline Supervisor of Cultural Heritage); Gianluca Farinelli (Director, Cineteca di Bologna); Gloria Manghetti (Director, Gabinetto Scientifico Letterario G.. P. Vieusseux, Florence) and Federica Pirani (Art Historian, Sovrintendenza Capitolina ai Beni Culturali)
Events, meetings, screenings
As a complement to the exhibition, a series of cultural meetings, readings and screenings will be organised in various sites at the Galleria d'Arte Moderna, the Sapienza University of Rome and others to be defined. In this context, the Sapienza University of Rome is also organising a major conference on the relationship between writing, painting and cinema.
The project for the Galleria d'Arte Moderna in Rome is curated by
Silvana Cirillo, Claudio Crescentini and Federica Pirani.
Promoted by Roma Culture, Sovrintendenza Capitolina ai Beni Culturali, Sapienza Università di Roma Faculty of Letters and Philosophy, Department of Modern Letters, Gabinetto Scientifico Letterario G.P. Vieusseux of Florence, Centro Studi Pier Paolo Pasolini of Casarsa della Delizia (PN) and Fondazione Cineteca di Bologna with the organisation of Zètema Progetto Cultura.
Information
Opening hours
From 27 October 2022 to 16 April 2023
Tuesday to Sunday from 10.00 to 18.30
Last entrance half an hour before closing time
Closed on Mondays, 1 January, 1 May and 25 December
ALWAYS CONSULT THE ADVISORY PAGE before planning your visit to the museum
Information
Tel. 060608 (daily from 9.00 to 19.00)
Type
Exhibition|Contemporary art
Eventi correlati
Currently there are no ongoing activities.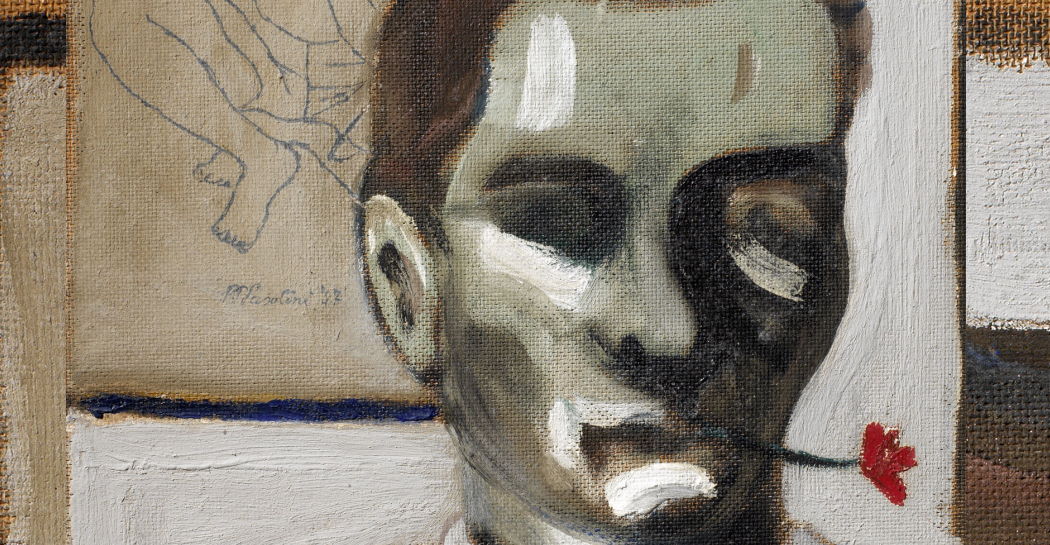 Educational resources for all
There are no archived activities.